Association Canadienne de Vol à Voile

Assemblée Annuelle 2016 ACVV - SAC et

Colloque de sécurité et de mise à jour des connaissances

L'ACVV-SAC vous invite à l'AGM 2016 de Montréal.

Samedi 12 mars 2016 de 9h à 17h.

Elle aura lieu à la Maison de Radio-Canada,

1400, Boulevard René-Lévesque Est, Montréal, QC H2L 2M2

Les sujets traités seront d'intérêt général, liés à la sécurité en planeur

Sa présence est une mise à jour des connaissances selon le RAC 401.05

Il sera possible de manger sur place à la cafeteria à vos frais

Si besoin, voici un hotel à proximité:

Hôtel Gouverneur Montréal Place Dupuis

Montréal (Québec) H2L 3Y9

ou Sans frais : 1-888-910-1111

Code de réservation : 160311SAC

(117$+taxes par nuit si réservé avant le 11 févier 2016)

- 8:30 Arrivé des participants et inscription

-

9:00 Colloque de sécurité- Accueil et mot de bienvenue

-

9:05

Sylvain Bourque, pilote professionnel d'UAV et chef pilote/Instructeur National pour CBC/Radio-Canada et instructeur à l'AVVC fera une présentation sur l'utilisation professionnelle d'UAV -Drone dans l'espace aérien Canadien

- 10:15 Meteo vol à voile / sécurité - Jean Richard

- 11:00 AGM ACVV - SAC

- 12:00 Diner et

Remise des trophées ACVV-SAC

-

13:10 Emmanuel Cadieux - Mondiaux Junior d'Australie - Décembre 2015

- 13:30 Rapport de l'officier de sécurité National ACVV-SAC David Donaldson

- 14:30 Dealing with emergencies Dan Cook, Directeur FTSC - ACVV)

-

19:00 Souper, endroit à déterminer

…………………………………

Soaring Association of Canada

2016 Annual General Meeting and SAC Safety Seminar

SAC invites you to the 2016 Montreal AGM

Saturday, March 12th from 9 am to 5 pm

The AGM will be held at the Maison de Radio-Canada (CBC),

1400, Boulevard René-Lévesque Est, Montréal, QC H2L 2M2

Discussions will be of general interest and safety related

Attending to this seminar will satisfy the recency requirements of CARS 401.05

Lunch at cafeteria will be available on site at your own expense

Nearby Hotel If Required:

Hôtel Gouverneur Montreal Place Dupuis

Toll free : 1-888-910-1111

Reservation Code : 160311SAC

(117$+tax per night if reserved before February 11th 2016)

- 8:30 Arrival of attendees and registration

-

9:00 Welcome and opening of seminar

- 9:05 Sylvain Bourque, Commercial UAV pilot and National chief pilot/Instructor for CBC / Radio-Canada and Instructor at Champlain, will do a presentation about commercial UAV - Drone use in Canadian airspace

- 10:15 Weather and safety - Jean Richard

- 12:00 Lunch -

SAC awards and trophies

-

13:10 Emmanuel Cadieux - Junior worlds report - Australia - December 2015

- 13:30 National safety officer 2015 report - David Donaldson

- 14:30 Dealing with emergencies - Dan Cook, Chairman of SAC FTSC

-

19:00 Dinner - location TBD

Several gliding events are planned for Southern Ontario this summer:

SOSA Basic Country-Country Clinic: Monday July 27th to Friday July 31st

To be held at SOSA Gliding Club near Rockton, ON. Non-SOSA participants should bring their own glider. Contact This email address is being protected from spambots. You need JavaScript enabled to view it.for more details.

Ontario Provincial Soaring Championships: Friday September 4th to Monday September 7th

To be held at SOSA Gliding Club near Rockton, ON. Friday, September 4th is a practice day.

The website for the 2015 Canadian National Soaring Championships is now live at http://2015canadiannationalsoaringcontest.ca/. The website provides additional information on the contest and also provides instructions for registration. Any pilots that registered prior to February 28 will need to re-register as the forwarding e-mail address was incorrect which prevent registrations from being received.

 

The 2015 Canadian National Soaring Championships will be held at Olds/Netook Airfield in Alberta from June 10 - 19 with practice days on June 8 & 9.

Olds/Netook Airfield is located 45 minutes north of Calgary and is one of the sites used by the Air Cadets for familiarization flying.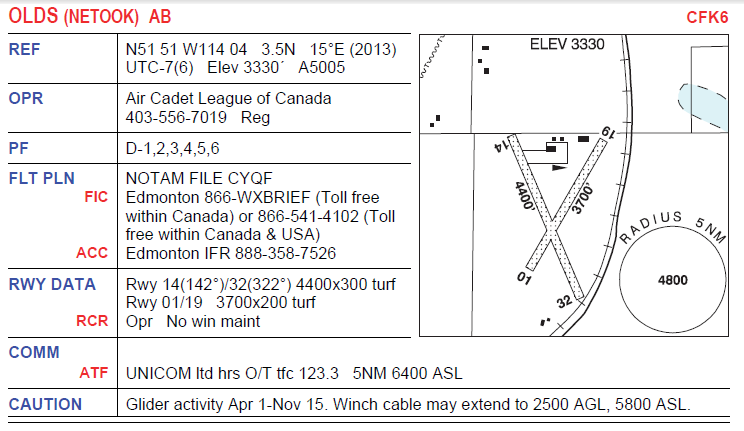 A website with all the details will be launched shortly. In the meantime, you can follow us on Facebook at Canadian National Soaring Competition 2015.
Two years ago, the FAI put together a special committee to examine woman in air sports and explore ways to increase female membership in air sports. The committee focused specifically on woman in gliding, which is fortunate for us and they put together a white paper to share the results of their research. The white paper shares insight and experience from Canada with York Soaring receiving an honorable mention. The white paper is an excellent read and all clubs could benefit from the information contained in the white paper. The white paper has been posted on the SAC website can be downloaded from the following link.
The SAC Board would be interested in hearing from individuals that would have an interest in taking on the editing duties of SAC website. Tasks would include keeping content fresh and up to date by seeking out interesting articles and news, keeping the documents in order and updating links or other information that requires updating over time. The web editor would also work to build new content for the website over time and would also involve keeping the SAC twitter feed churning with interesting content.
No specific skills are required other than proficiency with a computer and keenness to learn as much of the technical aspects can be learned by an individual with a certain amount of training and hands on work.
If you feel you would be a good candidate for this position or if there is an individual at your club that you feel would make a good candidate, please send Jay Allardyce a note at This email address is being protected from spambots. You need JavaScript enabled to view it..